Evolution Line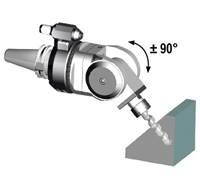 The new Evolution line of Gerardi angle heads has been designed from a technical base derived from 40 years experience of solving thousands of production problems, finding optimum solutions and always guaranteeing the highest product quality

More than 30 standard angle head types are now offered, designed, built and distributed in more than 50 countries the world over by Gerardi S.p.A., and available with a range of options to complete their application and performance potentials.
Main Technical features
Minimum thermal expansion and high corrosion resistant treated steel body.
Modularity: main shaft with interchangeable Drive Taper (Double contact) allow an EVOLUTION angle head to be used on other machining centres with different spindle types and sizes. It is also possible to exchange the anti-rotation (arrester) sub-assembly and the input drive taper with no effect on rigidity or accuracy.
All spindles are supported by pairs of preloaded angular contact ball bearings with ABEC 7 precision and long life lubrication.
Gleason computer based calculations for the Gleason cut spiral bevel drive gears with ground teeth in order to guarantee a bigger torque.